Check if your phone is
BLACKLISTED!
Blacklist check
Check blacklist phones!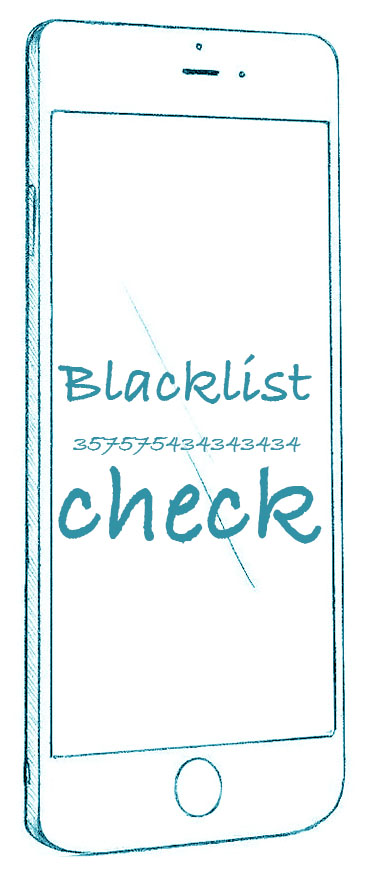 About to purchase a second hand phone and want to check whether the IMEI number of your phone is in the blacklist of a specific carrier or not? If yes, then you have landed to the perfect platform because here on UnlockPlus you can quickly perform blacklist check action to confirm your device is not blocked or blacklisted.
As there are different reasons a network can block specific mobile device/handset like when reported as stolen/lost or unpaid as per terms and conditions mentioned in the contract, you should always verify that IMEI number of the device is clean before making any purchasing decision. It will help you save your valuable time and money too. A lot of online resources and websites can be found on the web that allow you to perform blacklist check for your smartphone but most of them are useless because they don't provide accurate results and can cause loss of your money if purchased a blacklisted mobile phone.
UnlockPlus offers 100% accuracy when checking blacklist status of iPhone or any other android Smartphone and helps you make sure the device is not blocked or blacklisted. It provides you detailed information on whether your smartphone have not been reported as lost or stolen, or unpaid. When a user reports IMEI number as lost or stolen, the carrier can add the device in blacklist that cannot be used with any carrier anymore. That is the reason, we always suggest our customers to always perform blacklist check before buying a second hand mobile phone.
FAQ about how to check if your phone is blacklisted
How to check my phone?
With us, the checking process is effortless and painless. Just enter the IMEI an place the order. After that we'll make an check GSMA TAC and IMEI datasets and once is completed we'll send you an e-mail with status of the phone.
Do I need special tools to check if the phone is blacklist?
No, all you need is IMEI number from the phone. You can see the IMEI of the phone dialing *#06#.
How do I know if my phone is Clean or Blacklisted?
We send you in raport exact status of your phone, blacklisted or clean. If is blacklisted, even unlocked, you won't be able to use the phone in that country anymore.
How can I unlock my phone if I don't know the original network and country?
It is very important that you select the original carrier your iPhone is locked to (the one you originally bought your phone from). If you don't know this information, you need to use our Network Operator check service before placing an order.
Click here if you have other questions
Here at UnlockPlus.com you can find a solution to check all GSM Carriers: AT&T, Cricket, T-Mobile, T-Mobile USA, metro PCS, Vodafone UK, EE UK, Verizon, O2 UK, Rogers, Bell, Claro and many others. Our GSM Network Phone Check service is able to help customers from all over the world. We can check a phone from North America, South America, Europe, Asia or Australia.
We always check most popular models and we use our experience to keep our customers satisfied:
Why check your phone with UnlockPlus?
It's legit, quick, secure and permanent
Your phone will work with any network provider
You won't loose the warranty
No need to leave your home to check your phone
Fast delivery (1-30 minutes)
Step-by-step instructions and tutorials sent to your E-Mail
Top customer support available 24/7
Cheap factory unlock solutions
Money back guarantee 100%
HELP DESK




High rated 4.9 from more than 468 independent reviews
What people say
I used other cheaper companies to check a phone and they couldn't help me. This service came through with the right answer every time. There prices are very good too. I trust them.
Barrett Carpenter
I had a tricky situation and I am not smartphone savvy at all. I received prompt advice and clear instructions how to use my phone and my issue was resolved with excellent results.
Reina Walsh
My phone has been successfully blacklist checked and i can now use any sim card from any network. UnlockPlus has the lowest price compared to others.
Payton Duffy
Requested an blacklist check in the evening, got it by 5 minutes. Worked like a charm. Each email with questions was responded to within a half hour in a very helpful manner.
Warren Padilla
Great, super fast service. The procedure to check my phone went smoothly. I was delighted with how easy it was following the precise instructions. I recommend using this company.
Hailee Smith
I paid for a check for my phone which was locked to EE. I received the confirmatio shortly by email and I used it to unlock my phone without any problems by following the instructions. Great service.
Joshua Hale